Driveway in Verona, New Jersey
Cement & Concrete Driveways in Verona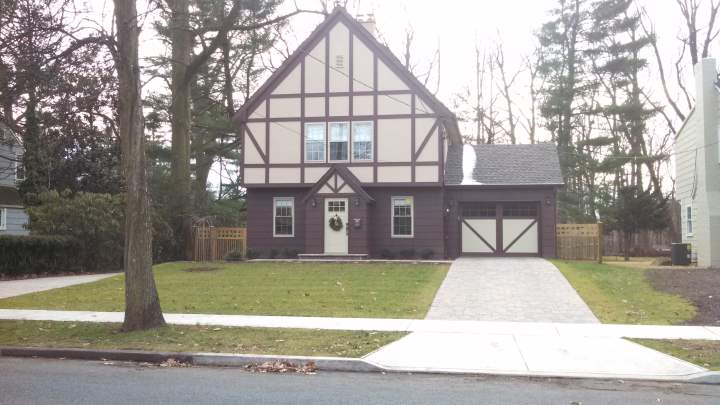 Building a Verona driveway seems to be a simple enough job: just excavate a channel, lay out some concrete, tarmac it, and you're done, right? Think again! First, underlying earth has to be compressed to eliminate potholes and unevenness from affecting the driveway. Then, the track and the laid driveway may need to be steamrolled. AAP Construction knows – we've been building driveways in Verona, New Jersey since 1993.
And there's much more: regardless of whether we are laying a new cement driveway in Verona or repairing an old brick Verona driveway for you, if it has any untoward subsurface cracks or gaps we will make sure that the subsurface layer is dense and compacted by pumping in cementitious grout. If you'd like to know more about these technicalities, just call us at (973) 298-1013! We'd be happy to have one our Verona mason's give you a brief primer and perhaps a free quote.
If you want your Verona driveway relaid with tarmac at a budget price, AAP Construction will do that for you willingly. However, if you want an attractive special-materials driveway to greet visitors to your million-dollar mansion in Verona, we will build the mirror-smooth driveway of your dreams. Short and sweet, we'll repair or build from-scratch any type of driveway in Verona.
AAP Construction will ensure that technical perfection, such as a precise camber and a rigorous drainage gradient, will combine with the smoothest and most level of finishes to result in one of the finest driveways in Verona.
Phone us today at (973) 298-1013 and a professional Verona mason will provide you all the information you require and setup a no-obligation quote.
---
Call for FREE Driveway Quote
---
WHAT CUSTOMERS ARE SAYING:
5★★★★★ - "AAP Construction is a First Class company with a team of qualified and creative artisans who really care about their work. Led by Adrian, the finished product is 1st rate and executed at its highest. A totally professional experience, one to repeat again!"

Sally and Judith in Clifton, NJ

2019-08-21

5★★★★★ - "AAP poured the pad for a large shed and gazebo. Both were perfect and competitively priced."

Eugene in Glen Rock, NJ

2018-11-19

5★★★★★

Pawan in Richmond Hill, NY

5★★★★★ - "He is a great great guy, very responsible company which is hard to find. I had him do a small project for me in the past, before we started this larger project. I have a lot of confidence in his work and what I like is that he delivers what he promises."

John

2013-05-02

5★★★★★ - "His quality is excellent and this is the best installation I have ever had. Adrian was very accommodating, dependable and runs a great crew. All the stone work was done beautifully and I am extremely happy."

Karen

2013-05-02

5★★★★★ - "The best contractors overall at any level."

James

2013-05-02

5★★★★★ - "I am very very satisfied with all the work, he is an excellent builder, honest and sticks to his bids."

Mike

2013-05-02
---
Call for FREE Driveway Quote
---